Happy 2014!
First I have to say thank you to each and every one of you that commented on my post. It means SO MUCH to me that each of you took the time to share with me and are willing to help me. I emailed the dietitian to tell her about what I'm thinking as far as food.
Now to the good stuff. The marching band at my high school went to New Orleans for winter break!! We got to perform at the Sugar Bowl's halftime show!!
First we took a bus down there. Sixteen hours on a bus. At least they were coach busses!! I got to sit with Andrew.
We stopped at Subway for dinner, and then we tried to fall asleep. I ended up sleeping for like hour increments and then waking up and trying to find a new position to sleep in… Sleeping on a bus is easier said than done!!
Finally we arrived in NOLA. It was warm! Well, at least 40s instead of the 20s and lower in Illinois. Our band director had told us it was going to be a lot warmer though, so I'm glad I brought pants.
We took a swamp tour and I got to hold an alligator!! How cute is she?? She wasn't slimy at all. The guy kept her in a cooler, and we were all pretty surprised when he just took a small gator out of his cooler.
On New Year's Eve we were supposed to have a dinner/dance with the other visiting bands and watch fireworks at midnight. I was totally looking forward to this part of the trip!! However, somebody decided to end the party early, so all the bands left at 11:15. We sat around and waited for our coach busses for half an hour, then spent New Year's on our busses riding back to the hotel. No fireworks. We were all pretty disappointed.
We had a lot of rehearsals for the Sugar Bowl. You see, we played a combined number with a few other high schools from all over. I loved getting to know all the people- the South is so much different from what I'm used to. The superdome was pretty cool.
They had a marching competition and my band WON so we got to hold the flag during the National Anthem.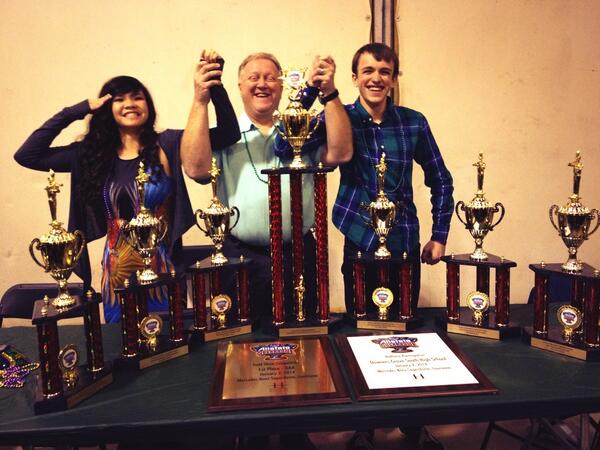 Andrew and the other Drum Major and my very happy band director with our assortment of trophies.
There were 70,000 people watching and it was SO COOL!! I was on National TV!!
I'm holding Maine, can you see?
We also got to ride a Steamboat and it had this beautiful view.
Right next to the dock, there was a FREE IMAGINE DRAGONS CONCERT.
Obviously I'm OBSESSED with Imagine Dragons so I was freaking out. Our band director was totally awesome and let us all run over and see the concert as soon as we got off the cruise. It was our lucky day, because the cruise and concert were supposed to end at 7 but the concert lasted another 20 minutes, so I got to see Imagine Dragons!!
New Orleans has this really cool culture that I loved! The city itself is kind of dirty-they wash the streets in the morning, and we saw a rat- but it is unique and I loved visiting.
Oh, and how could I go to New Orleans without trying a beignet? I had a bite of mine since I don't eat fried foods (my tummy doesn't like them) and it was pretty good!
Other stuff? I ran when I could. I got three treadmill miles in one day and five another.
I had a lot of food freak outs and definitely didn't maintain the best balance but it's too late now. My blood sugars were terrible, but I had no choice really. I did the best I could. I'll discuss it more later. I want to remember the good parts of this trip, not the bad stuff
After sixteen hours on a bus home, I was exhausted! Eating real, normal food at normal times felt great. And so did a run (cut short because it was snowing and I had to run on the road). I miss that NOLA weather, man. Look at the forecast for home:
They are considering canceling school because of the temperature on Monday. I'm crossing my fingers because I have an essay on the Crucible and this girl could use an extra day of break!
How was your New Year's? What have you been up to over break? Has your school ever been canceled because of low temps?
Emily